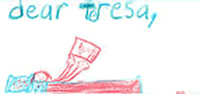 Theresa! Thanks so much for creating Kip Sacs! My kids really love them! Cathleen sleeps in hers every night with her beanie baby sleeping in his, on her nightstand. It's pretty cute! ~ Julie, Michigan

I love cuddling in my Kip Sac on the living room floor. ~Roger, Maine

I love Kip the kangaroo! He's so cute! ~ Kelley, Rhode Island

Theresa, These Kip Sacs are absolutely adorable! I have seldom seen my son so excited about something. He loves it and is sleeping late each morning. Thank You, Thank you, Thank you! ~ Peggy, Maine

Theresa,
Our children still love their kip sacs. They (the kip sacs) have travelled with us from America to our new home in Australia. Don't know where our children are... All the kangaroos are jealous - in fact they've become quite a mob!
~Derek & Jacque, Mullaloo, West Australia

Jake loves his Kip Sac and has already spent many nights in it. It has become a permanent fixture in our living room! ~ Betsy, Maine

Theresa, Theresa, Theresa! Oh, I love it!! My son, Josef will definitely take this everywhere! ~ Pauline, Michigan

I have a 6, 4 and 4 month old, so we are very kid oriented here! The material is one of my favorite parts—it's so soft. My kids adore it! My kids use theirs nearly everyday and love them! They were perfect gifts! Do you make them in adult sizes? ~ Mindi, Oklahoma

These Kip Sacs look pretty cozy. Do you make them for seniors? ~ Joe, Massachusetts
~ Coming soon ~
for adults....
Because you outgrew your
favorite blankie long ago.

Hey Mates!
Click on Kate's kangaroo for fun facts about kangaroos and Australian wildlife!
"The material is one of my favorite parts—it's so soft. My kids adore it! My kids use theirs nearly everyday and love them! They were perfect gifts!"

Mindi,Oklahoma